Updated: Aug 2, 2022
Babalu! Did you know Desi was a great cook? Here's his recipe for Cuban Picadillo!
DESI ARNAZ'S PICADILLO
1 medium onion
1 medium green bell pepper
4 cloves (or more) garlic
3 small potatoes
1 large egg, hard-boiled
1/2 cup canned baby peas
2 large pimientos
1/4 cup vegetable oil
1/4 cup Spanish olive oil
1 1/2 pounds ground round
1/2 cup canned crushed tomatoes (or substitute tomato sauce)
1/4 cup dry sherry
1 tablespoon salt
1 tablespoon Worcestershire sauce
1/2 teaspoon Tabasco sauce
1/4 cup dark raisins
Salt and pepper to taste
Chop the onion, seed and chop the bell pepper, mince the garlic, peel the potatoes and chop into ¼-inch pieces, chop the egg, drain the peas and chop the pimientos.
Heat the vegetable oil in a medium-sized skillet over medium heat and toss in the chopped potatoes. Fry until crispy brown (10 to 12 minutes). Set pan aside.
In a large, deep skillet or casserole pot, heat the olive oil over low heat until it begins to smell fantastic. Add the garlic and onion and stir it up a bit. Then add the bell pepper. Stir over low heat for 8 to 12 minutes (or until tender). Add ground beef and stir until it turns brown (maybe 10 minutes).
Add the tomatoes and any juices, sherry, salt, Worcestershire sauce, and Tabasco. Stir over medium heat 15 to 20 minutes. No need to cover.
Toss in the potatoes and raisins. Add salt and pepper to taste and cook until the liquid is absorbed (maybe another 10 minutes).
When it's ready, serve on a large platter. Make a small hole in the center and sprinkle the chopped egg into it. Decorate the outer rim with the peas and lay the pimiento pieces wherever they make you happy.
Note: Cuban picadillo is often served with black beans and rice.
Desi's picadillo will probably look something like this.
No, Ricky, have some picadillo!
Or some burnt toast perhaps.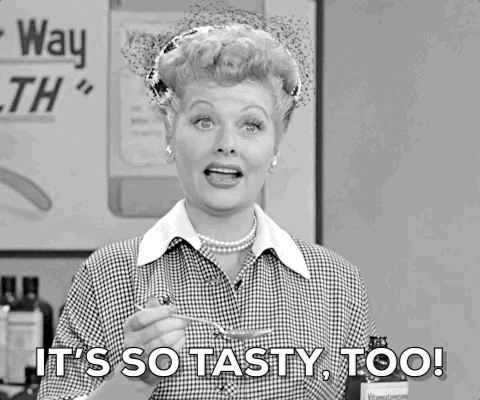 Lucy likes Ricky's picadillo even better than Vitameatavegamin.
Cheers to your picadillo, Ricky!
Babaluuuuuuuuu!