Linda Evans' Veal Specialburger
Where do you think Krystle got the strength to fight Alexis on Dynasty year after year?! From eating her fortifying veal "specialburgers," of course!
Recipe from Cooking with the Stars, Rick Ameil, 1999.
Here's Krystle surveying the party spread thinking "Hey, where the heck are my veal specialburgers?"
LINDA EVANS
Veal Specialburger
SEASONING SALT
PEPPER
2 POUNDS GROUND WHITE VEAL
1 LARGE FIRM TOMATO, DICED
4 LARGE MUSHROOMS, DICED
10 LARGE STUFFED GREEN OLIVES, DICED
10-OUNCE PACKAGE SHARP CHEDDAR CHEESE, DICED
1/2 LARGE GREEN BELL PEPPER, SEEDED AND DICED
1. Mix a little seasoning salt and pepper into veal. Add diced tomato, mushrooms,
olives, cheese, and green pepper. Mix veal mixture with fork, not hands.
2. Form into patties, being careful not to overwork veal. Broil, grill, or sauté to
desired doneness.
Linda further advises: Veal has less fat than any meat and usually comes from young milk-fed calves. It is costly but has fewer hormones than beef and is very tender.
Here's Linda dreaming of a specialburger.
The episode where Alexis refuses to eat Krystle's specialburgers.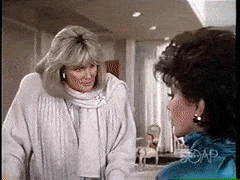 Things got pretty intense after that.
Girls, girls, you're both pretty.